The world is getting to be a much smaller community with a lot of businesses competing for attention and sales.  Even small businesses and start-up companies want a piece of the revenue pie.  Then, there are virtual businesses that don't have assets like social media networks and online travel agencies.  Add to that the competition for resources within a company.  Not all businesses have large budgets for advertising or marketing.  So, how can businesses and entrepreneurs make the most of their meager budgets and the cutthroat competition?  How about business cards?
Yes. Business cards. They're not just a handy note to remind a person of an enterprise's business and its contact details. They are uncanny marketing tools. Since they often get stacked in a business card holder and can be drawn out at random, there's a way of making them stand out from the competition. Use spot UV business cards. These are business cards that have a high gloss finish applied to certain areas of the card. This high gloss finish makes the card become prominent and noticeable even when it is among a stack of other ordinary business cards, receipts or doodles.
Spot UV business cards also induce or encourage recipients to give a more thorough inspection of the business card and what is written on it. For instance, the high gloss finish could be applied only on the logo in a matte card. The gloss could also be applied on a particular pattern or design. Spot UV business cards come in many forms and styles. Some of them are:
Transparent Business Cards – Transparent business cards have that clean, simple look but get its point across in a straightforward manner.  Usually made of plastic, they are often used by photographers and graphic designers.
Foil Business Cards – Foil business cards speak of elegance and luxury.  Your logos come out like emblems of your business while your name and contact details are printed in striking metallic colors.
Business Cards Using Matte Stock – Business cards using matte stock are thick and use a matte celloglaze with patterns and text enhanced by a spot UV varnish.
Irregularly Shaped Business Cards – Businesses that want to impress their character choose business cards that are irregularly shaped.  In this example, the business card copies the shape of tickets.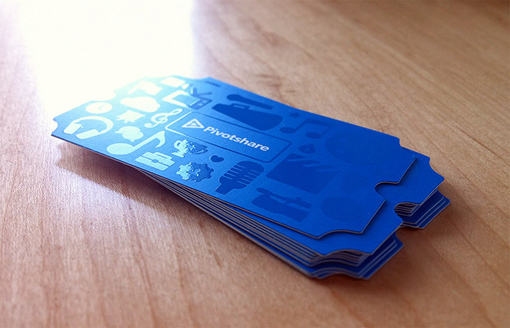 Business Cards on Silk Laminated Stock – Business cards using silk laminated stock have that soft feel and makes the card sturdy because it is tear and water resistant.
Given the variety of cards using spot UV, you have choices that suit your budget as well as your business' style. You also have a choice of material for the kind of business card that you want – whether it's transparent or opaque.